By Mahmoud Elasry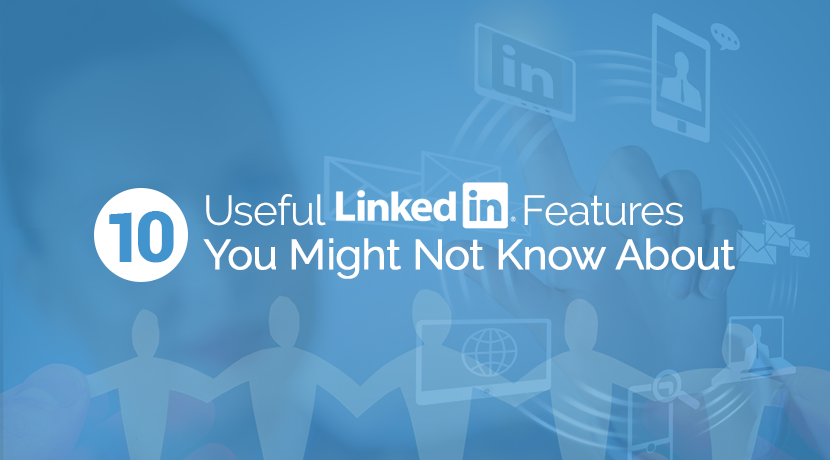 With more than 300 million members,
LinkedIn is the most popular business-oriented network
. But are you using all the possible feature of LinkedIn?How do you know LinkedIn? May be not as well as you think. Here I have compiled a few features that can save your time, expand your network and drive your business goals.
How do you know LinkedIn? May be not as well as you think. Here I have compiled a few features that can save your time, expand your network and drive your business goals.

1. Hide your connections:

With using this feature you can have the flexibility to control how open or private you make your connections to others within your network. You can set your settings so that your connections are only visible to you or those who are also connected with you. If you make your connection private then it's only visible to you. This will stop competition, recruitment companies and other accessing a network of potential clients, employees and channel partners you have worked hard to build a relationship with over the years.

In order to make the required changes scroll to the upper right-hand corner of your LinkedIn profile and select privacy & settings. Just click on the link "select who can see your connections" and from there choose the option, "only me" when this is done, save your changes.

2. Export Your Connections:

Want to move LinkedIn connections to other contact management system? LinkedIn allows you to easily export your connections. You can easily download a spreadsheet either .CSV or .VCF format and a list of your connections including their name, current company name and email address. If you want to export your contact then click connections in LinkedIn's top navigation, click on the settings gear icon in the top right and click export connections under advanced settings on the right.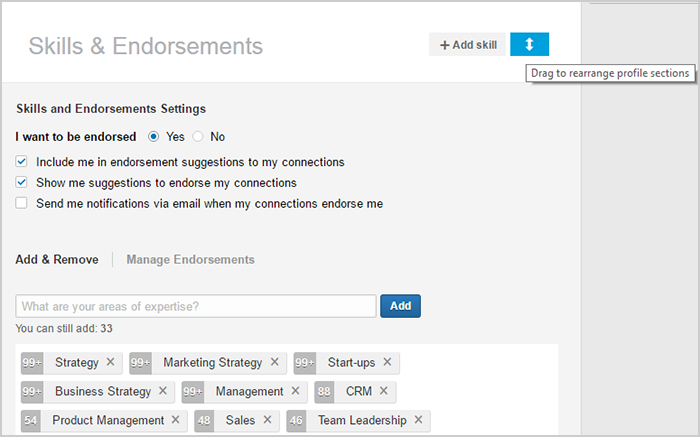 3. Delete, Manage And Edit Your Skills & Endorsement:

Skills and endorsement area is very important when you are building the LinkedIn profile. By clicking on this you can endorse someone or to have someone endorse you. It adds the tag so that make your profile more easily found by search engines and LinkedIn searches also.

While LinkedIn allows up to 50 skills listed. I recommend that you should only have 3 or 5 skills and expertise listed on your profile. However, you need to do some research online along with speaking to some of your clients about what skills or expertise your target market are looking for in an expert within your field before including them in your profile. If a skill is unique that has not been entered into the database so you can add manually. To edit, this simply select edit profile in the drop down menu. Then scroll down to the skills and expertise section of your profile and click edit.

Within this area, you can remove any endorsement you no longer want, add new skills you want to be endorsed for and manage the endorsement you have received with particular skills or expertise and much more. After finishing this click on save to ensure all your changes are updated.

4. Create LinkedIn Showcase Page:


LinkedIn showcase pages are the perfect way to segment your inbound LinkedIn traffic. If you can create a business unit that is directly connected to a specific target audiencethen you need to create a showcase page. It allows companies to target different buyer personas by providing single pages that focus on specific products, product categories, and service. LinkedIn users can also follow specific showcase pages without having to follow a company's main page or its other showcase pages, allowing your business to change the page closely to the audience specific to the page.

If you want to create showcase page, click the edit dropdown at the top right of your company page and select create a showcase page. You can create up to 10 free showcase pages per each parent company page.

Showcase pages were basically custom-made for B2Bs to better generate leads. LinkedIn writes, "It makes sense to create a Showcase Page when you want to represent a brand, business unit, or company initiative. These pages are intended develop long-term relationship with a specific audience."

Tips for making showcase pages as good as possible:
• Create showcase page just like your company page
• It is vital to keep the name of the page short so it won't be shortened in the display sidebar.
• Use the word that your audience will understand and relate to
• Showcase pages are just another way to get more leads interested in your product or service
• Add website link, image and industry just like for regular page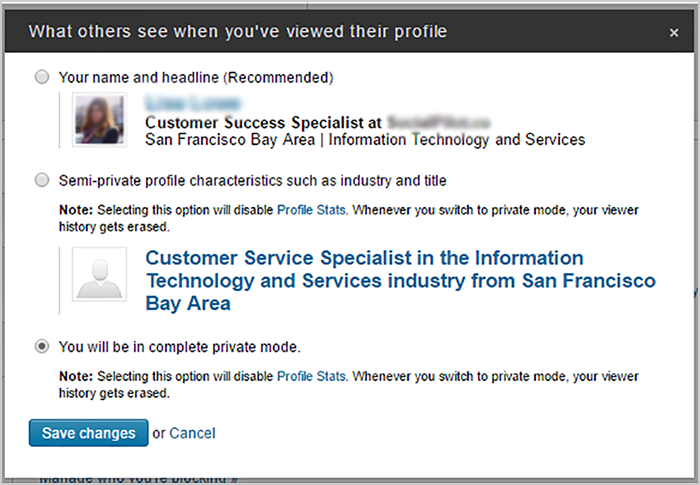 5. Hide Your Identity When Viewing Profiles :

The "who's viewed my profile" box is on the right side of your LinkedIn page when you first login it, you can see vague attribute of people who have clicked on your profile, such as the company the person works for, sometimes their name and someone labeled "Anonymous." If you don't want others to see information about you when you look at their profile, you need to change the setting.

Find the settings page and click the link for "select what others see when you've viewed their profile". When you select this you will see the pop-up, then select the appropriate option, either you can select anonyms profile characteristics or you will be totally anonymous. Then click save changes.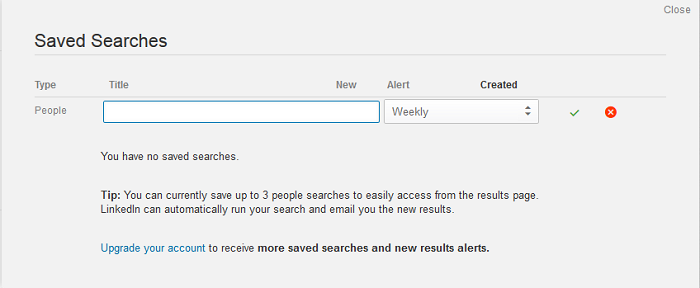 6. Save Searches:

When you go through the work of creating a highly specific targeted search, you'll want to save it. The saved search is the great way to stay active in your prospecting. LinkedIn allows users to save up to ten job searches and three people searches. So after conducting a search just click on the save search option on the right allows you to save a search and easily run it again later. In addition, you can choose this option to receive weekly or monthly reminders via email once new members in the networks or job match your saved search criteria.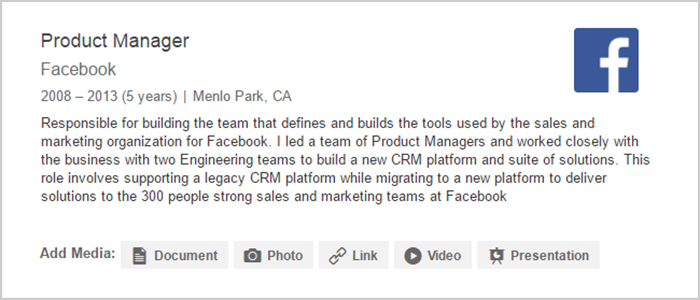 7. Show Media Files On Your Profile:

Did you know LinkedIn enables you to include a variety of media like videos, documents, Photo, links, and presentations to the Summary, Education, and Experience sections of your LinkedIn profile? This allows you to showcase different projects, show samples of your work, and improve your LinkedIn profile. Just click the edit profile, then look for the media icon for each section, placed between the pencil icon and the up/down arrow.

You can also reorder your profile sections. For example, you want your job experience to show up in front of your summary. Click the Edit Profile button on your LinkedIn home page, and look for the up/down arrow icon at the top of each section. Click, drag, and drop where you'd like it placed.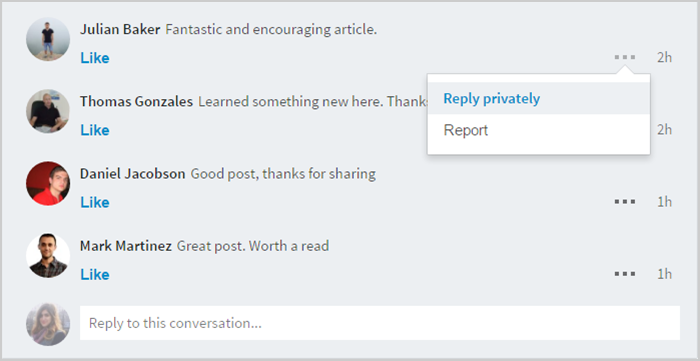 8. Make Contact Without Making a Connection:

If you want to get in touch with someone on LinkedIn but you have yet to make the one-to-one connection, you can join a common group. Once you have joined a common group, you can send the message as the member of the same group even if you are not directly connected. On the comment section, you will see an option to report privately in the drop down under comment conversation. By clicking this, you can send a message without making a connection.

9. Maintain LinkedIn Relationship Note:

Under each connected profile, you will see the option to add relationship notes. Using this feature you can add the information like how you met, add reminder notice and other important context.

The reminder notices are great because you can set feature and recurring alert with each content. If you click the recurring option, you could set up a reminder to call or follow up with the person on a weekly, monthly, every three months or custom basis. However, in relationship panel, all the information is kept private so that only you can see this.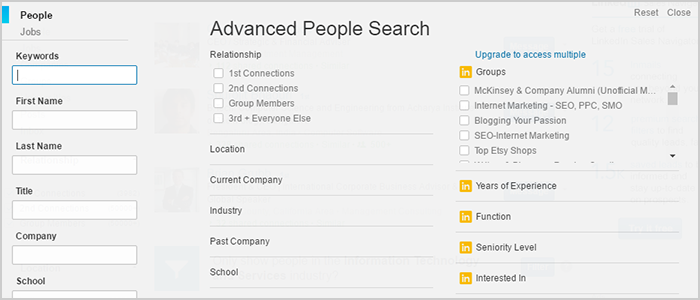 10. Take Advantage Of Advanced Search Option:
LinkedIn's advanced search feature gives a much richer search experience as well as the best way of identifying the exact type of the people who are targeting. For example, say you want to find out if you're connected to anyone who works at a specific company. Type the company name in the company field in Advanced Search, then filter the results by "Relationship" to see if you have any first- or second-degree connections to any employees.
In addition, you can filter your search by location, industry, past company, school, profile language, and nonprofit interest.
Which of these useful features did you know already? I would love to hear what you are really using or what you have found useful in the comments box below.
URL :
http://weneed4info.blogspot.ie/2016/08/10-useful-linkedin-features-you-might_1.html?spref=fb